The Weather Check is a 48-hr forecast planner detailing temperature,  probability of precipitation, and wind speed/direction throughout the day. Much like the Daily Planner, the Weather Check can be customized to incorporate a specific weather trigger criteria, lessening the impact on your production and allowing you to make decisions ahead of schedule.
Word of advice – if changes are made to the Daily Planner, corresponding changes to the Weather Check should be made as well for consistency.
To make changes to your Weather Checks, follow these steps:
Step 1
From the Company Dashboard, click on Weather Check in the Settings menu.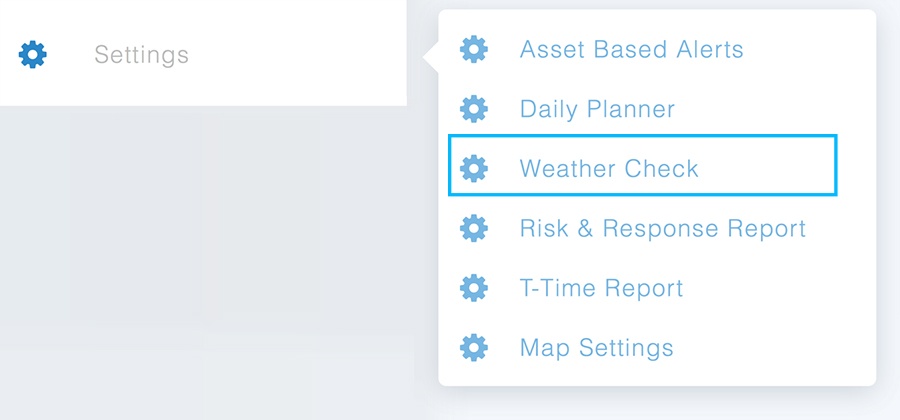 Select the asset within the company asset list or filter the list by searching for the asset name. Click on the asset name to activate the Asset Settings.
Step 2
Customize your weather triggers. Default triggers are already set to "on" for Marine and Continental assets. Slide the bars left to lower the thresholds, and to the right to increase the thresholds.

Step 3
Next, customize your publish times for forecasts to send. The recommendation is 6 am local. Company Administrators can add additional publication times, change the send times, or can remove secondary forecasts.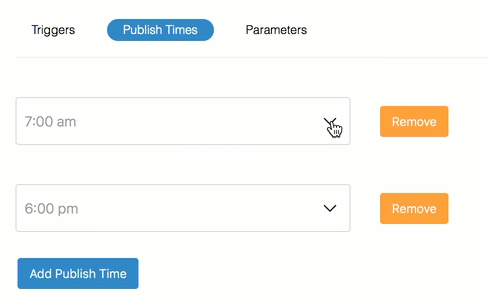 Step 4

Finally, add or remove the weather triggers included in the Weather Check. Slide the active bar to the left to turn the trigger off, and to the right to turn on the trigger.
Note: Marine planners have different weather triggers that are not available on continental planners, including 50 and 80m wind direction and swell direction, height, and period. 
Default Settings
Heat Index 90-95 degrees F
Ice Accumulation (2 hr) – 0.01 – 0.03"
Precipitation Acc -(2hr) 0.1 – 0.3″
Snow Accumulation -(2 hr) 0.5 – 1"
Thunderstorm/Lightning 30-60% Probability
Wind Chill – 0-10 F
Wind Gust – 30-40 mph
Publishes at 6 am
Marine Assets:
50 Meter Wind Gusts – 25 – 40 kts
50 Meter Wind Speed 25 – 40 kts
Maximum Wave – 8 – 19 ft
Significant Wave – 8-19 ft
Thunderstorm Lightning – 30-60%
Visibility – 1-3 nm
Wind Gust 25-40 kts
Wind Speed – 25-40 kts
Wind Wave 8-19 ft
Publishes at 6 am
Category: Configure