To change the default alert settings for stored asset locations, follow these steps. A short video tutorial is shown below.
Start Here
Select Asset Based Alerts in the Settings menu.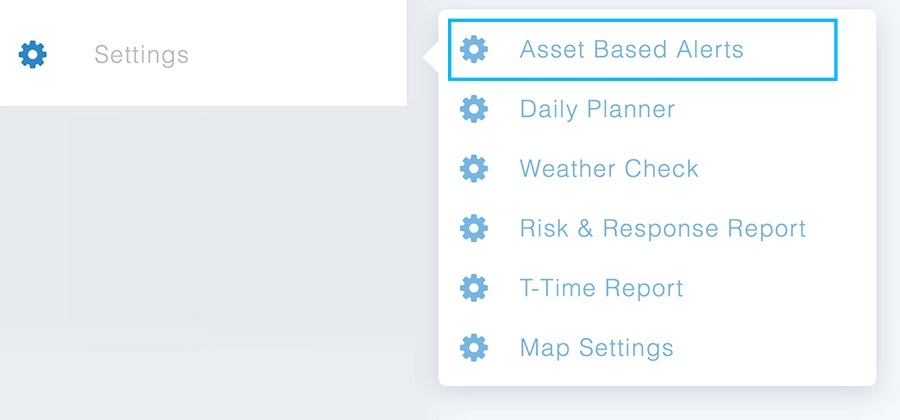 Select Asset
Now, select an asset from the list, and this will activate the settings pane.
Configure Range Rings
To change the alert range rings, select the lightning tab and then increase/decrease the ring distance. The maximum radius for any ring is 100 miles/kilometers. If you want distances over 100 miles/kilometers, you can request this by emailing our 24/7 support team.
NWS Alert Selection
Choose NWS Alerts to customize the types of National Weather Service (NWS) alerts your users will receive. If you want them all, toggle the "Select All Alerts" tab to the right.
WeatherOps Alert Selection
Select WeatherOps Alerts for the types of customized WeatherOps Forecaster alerts users receive.  To select all of them, toggle the "Select All Alerts" tab to the right.
Blackout
Blackout times can be set for an asset if the alerts are not needed during a specific time frame.  Go to the Notification Timing tab and toggle the slider bar left or right to set a blackout time.  Want to disable blackout times? Just click the "Disable Blackout Times" button.
Default Settings
8/20 mile range rings
All NWS alerts
All WeatherOps alerts
No blackout times
30 min all-clear notification
Category: Configure